Getting to the "root" of climate change
New data hosted by Oak Ridge National Laboratory is helping scientists around the world understand the secret lives of plant roots as well as their impact on the global carbon cycle and climate change.
The Fine Root Ecology Database, or FRED 3.0, brings together 150,000 observations of root anatomy and function from a variety of ecosystems. These root traits are informing Earth system models that predict the future of the planet.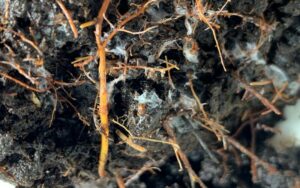 Check out the complete story here.
PMI NEWS
The PMI SFA would like to recognize Melissa Cregger, an Ecosystem Ecologist, who was recently selected as a recipient of a DOE Office of Science Early Career Research Program Award for her proposal: "Understanding the effects of Populus – Mycorrhizal Associations on Plant Productivity and Resistance to Abiotic Stress."